Favorites pieces in interior design
I love interior design. There's nothing like transforming a basic room into something that makes people say wow. I try to make every room I design the way I feel it's supposed to be. Some homes evoke country. Others are more modern. I'd say my style is upscale and elegant, yet homey and contemporary. There are certain pieces I have to have, and my living space shows this. I always come back to the same things. Here are some of my favorites: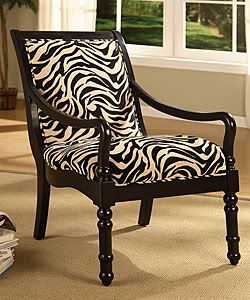 Animal Print
Animal print is fun, funky and unexpected. It livens up any room, and I love it. Every room in my house has something animal print in it. I'm partial to zebra and leopard, but others, like snakeskin, are really cool too.
Old Trunks
An old trunk is a treasure. Of course, this one is Louis Vuitton so who wouldn't treasure it? I love the weathered straps, velvet insides, thick leather and musty smell of an old trunk. They make excellent coffee tables, storage, footboards, and anything else you can think of. They bring character to a room, and they're complex, yet elegant.
Tufted Headboard
Or tufted anything, really. Chairs, couches, etc. They evoke an elegance and expensiveness that can't be beat. I love this headboard, it can make a plain bed seem like one fit for a princess. And they're usually upholstered in a micro-suede which is so plush.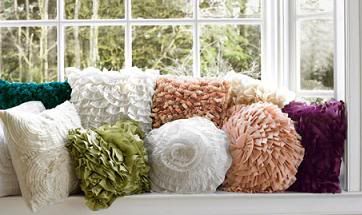 Ruffled Pillows
One of my cheaper loves. I'll take anything with embroidery, 3D flowers, appliques or sequins. They give a room a punch of detail, and come in any size, color or design. Homegoods is fantastic for cheap but adorable throw pillows.
Chaise Lounge
The ultimate luxury chair. There are many different kind of chaise lounges, but they all have a long deat, perfect for, what else, lounging. My mom has a bright red antique one I'm dying to get my hands on so I can upholster it and find a place in my life for it. The one pictured is pretty basic, nothing too frilly or over-the-top, but some can be extremely gaudy, or extremely expensive. Check out home stores for this beauty,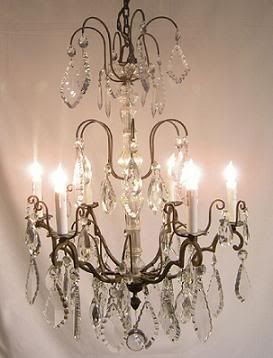 Chandeliers
I absolutely love chandeliers. They hang up above our heads, beauty above eye-level. I've seen cheap decals you can stick on walls to get a similar effect but I prefer the real thing. I found the ones in my house online at a great craft website and also at a home store. I prefer ones with crystals and that are slightly rustic-looking.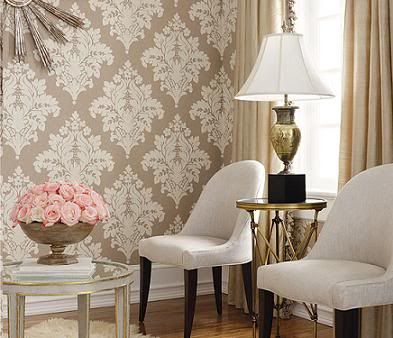 Damask
The damask pattern is a feast for the eyes. It's intricate, and if done right, really elegant. Damask wallpaper is very popular right now, but the key is to use it sparingly. In this picture it's on only one wall. It's a classic look that's been around forever, but still seems current. I like silver, gold, and black and white designs best.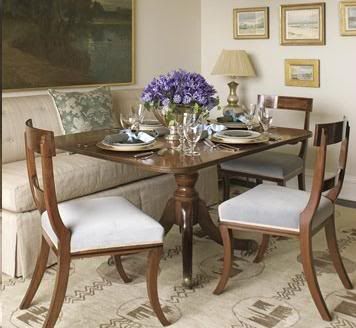 Banquettes
Banquettes are essentially bench seating at tables. I love this. I prefer booths, nooks and banquettes to chairs. They're cozier, and are just different than a plain table and chairs. A similar look can be achieved with a hard back sofa and a table. Adding some chairs to the other side breaks up the look, like in the photo above.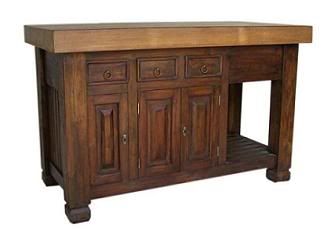 Islands
I love kitchen islands. They're free-standing and fill up a room effortlessly. They come in many shapes and sizes and serve different purposes. I love free-standing tables in general and believe they can be used in rooms other than just the kitchen.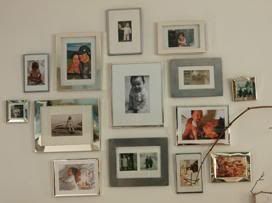 Photo Montages
Collages of photos on walls are easy to do and fun to design. However, you can't overdo it or it looks liek a cluttery mess. I prefer to stay within the same genre of photos, (my favorites are old black and white family images) and similar frames. Cluster them about, but make a slight shape and stick with it. The collection able is a good example.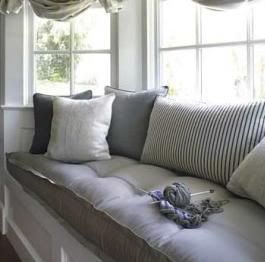 Window Seats
These are similar to banquettes, only they're in windows. Some are built in, which are my favorite kind, but if your house doesn't have one you can make your own. Simply place a bench in front of a window and frame it with two bookshelves. Don't forget to throw some pillows on there!
Old Bottles
Old bottles are, in my opinion, impossibly cool. I love anything vintage and antique, and these are completely old school. My grandmother used to collect them and stack them on shelves; you can put them anywhere and use them for anything. They also go with nearly every time of home decor. They make great vases, of course, but can also hold anything. Yards sales are a must for any bottle collector.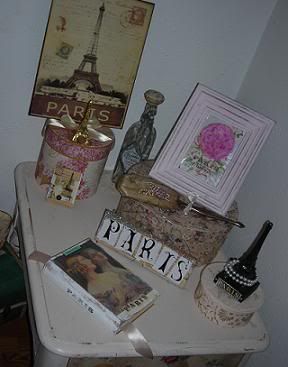 Parisian objects
Paris is beauty at its best. The Eiffel Tower is a gorgeous piece of archetecture and lately I've been really getting into using french flair in my decorating. These items are cute; I like anything with the tower on it, or french words saying something with meaning. Pink, pearls, and Chanel are also very Parisian, and a few of my favorite things!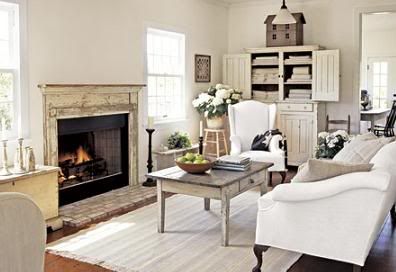 ;
Neutrals
Overall, I'm a slave to neutrals. I'm not opposed to color, but I find neutrals make it easy to mix and match furniture, and change things up more often. I'm a fan of change. I'm constantly editing my design so it's important everything goes together. I usually go for black and white, grey or silver, tan, brown. I enjoy a pop of color here and there though, so I usually pick an unusual color to tie everything together. My bedroom is tan silver and brown, with some unexpected purple. However, that may change because I'm really feeling gray and white lately, with a dash of pink!