Dinner partying
I love a good dinner party. Again, its probably something I've inherited from my mom, but I have a knack for throwing them. Although, as she likes to remind me, she's better. This past weekend my mom and I threw the best one yet; an engagement party for Tom and I. No surprises here, I was part of the planning process from the beginning.
I've decided to share some tips I've accumulated about parties, and how to turn any dining event into a memorable evening.
The first thing you should do is pick a theme. It doesn't matter if it's a large theme, but I've found when I have a concrete idea it's easier to plan. Obviously, holiday parties are easy. I think every holiday should be celebrated, and I try to plan some sort of festivity to acknowledge it. This past weekend was an engagement party, but since it's fall it was more of a fall festival get-together. We decided to serve food buffet-style and the menu was a mix of our favorites: chicken cordon bleu, red potatoes, meatballs, salad and rolls. Appetizers were cheese plates (ALWAYS have cheese!); crudites; and fun stuff like mozzarella sticks, chips and guacamole for the kids.
Decorating the party scene is my favorite part. While my mom was cooking, I was setting up. Her house is pretty Halloween-ready: pumpkins, bales of hay and cornstalks sit outside, while your more typical Halloween decorations are inside. So I only had to add to what was already there. I did however set up my own little table featuring an electronic picture frame, engagement notice, love poem, scrapbook and a cool centerpiece I made while playing around with some sticks (see blog title). The centerpiece was my favorite; it didn't really photography very well as seen below, but all I did was arrange sticks in a tall square vase, added some ferns and dried hydrangeas, and it was a pretty cool looking fall focal point.
The party was fun, and everyone loved the food and the decorations. But what is it that makes a dinner party fun? You always need a few of the same things in my opinion. A party just isn't a party without candles to set the mood, delicious appetizers like a fruit and cheese plate, quiches and canapes, and alcohol, namely wine. Drinking beer is perfectly fine, but if you're playing along to the whole dinner party (read: let's pretend we're rich people dining on caviar and steak) wine is the way to go. Or even better, champagne. Yummy.
Okay, so setting the mood is so important. Dim lighting makes everything, and everyone, look better. Set the table; at our buffet party we didn't need to, but the more fancy a party is, the more elaborate the place settings. I like to make menus and frame them to let people know what we will be eating, and placecards are a fun way to let people know where you want them. The rule is to always set people boy-girl-boy-girl, and couples never together. I like chargers underneath the plates, so when your guests take their plate there's still a marker at their setting. Napkins can go anywhere, my mom likes to stick them in wineglasses in the middle of a plate, I prefer them in crazy napkin rings. I have an old set from the 80s that are silver and gold stars. Silverware and plates go where they always do, and any extras, like gravy boats or salad bowls, go in the middle.
I love fresh cut flowers, so go with the in-season blooms in a vase in the middle of the table. If you want any additional creative touches, Homegoods is a great place to get inexpensive details. And I'm ALL about the details. The details are the thing that makes you stand out. That's probably why I'm an accessories junkie, but anyway. Back to the table.
Pick tableware that you can mix and match with any season or theme. A basic white china set will work with anything. I prefer square plates, but go ahead with round too. My mom has red champagne flutes that she uses for both Valentine's day, see below, and Christmas. Most of her decorations are orange, red, green or brown, and they all seem to go together. That's probably why she likes fall parties. I however like black and white with accent of silver. For a Halloween or fall party I like purple, it's just slightly unexpected and still looks more elegant than black and orange. For Valentine's Day I'm all about pink, and believe it or not, Christmas is probably one of my least favorite holidays to decorate for. Maybe it's the red and green together that gets me. I usually go with sparkly white snow and silver and gold. And St. Pattys is always bright green.
For easy, non-costly decorating, I like to bring some of nature in. Obviously my little centerpiece was nature inspired, and I also took some leaves and scattered them about. In warmer weather use flowers and locally grown produce. A bowl of fruit can be a centerpiece. Get creative. In April when the forsythias bloom I always take the yellow branches inside and decorate with them to celebrate the arrival of spring. And nothing is prettier than cherry blossoms when they bloom too.
Overall, food, friends and laughter is really all you need for a good dinner party. If you want to make it even easier, simply serve just appetizers and alcohol and let people mingle. But just gathering your friends and family and enjoying an evening together is one of the best things in life. So go party!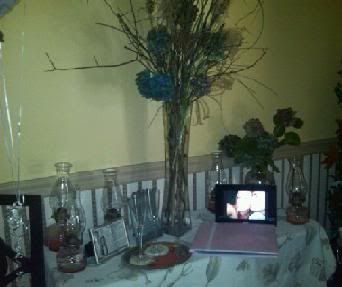 Above, my centerpiece, with my other little knick knacks scattered about. I like the old lanterns, give it a cool effect.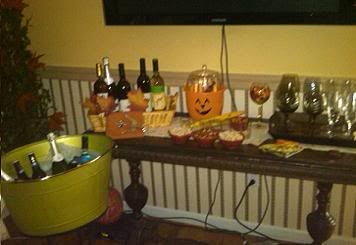 A bar. You can turn anything into a bar. Take a basic table, just add bottles, wine glasses, a tray, mixers and an ice bucket. Voila! A bar to socialize around.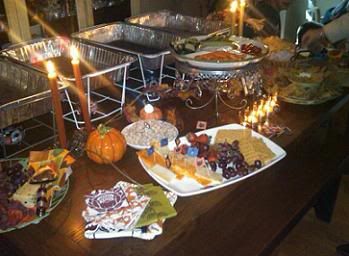 Appetizers before the buffet gets set up. Cheese is key for a dinner party. Nearly everyone loves it. Go with a few different varieties, with nuts, fruit and crackers for serving. I like a more flavorful one, a middle of the road basic one, and a slightly more plain one, served with grapes apples and berries, plus different types of crackers. Sometimes an olive tapenade or onion compote spices up the ordinary cheese plate. And don't forget to invest in some cheese knives! (Smaller and wider than regular cumbersome knives)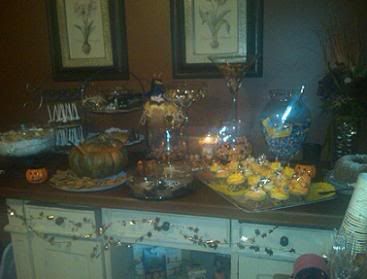 A dessert buffet is always a crowd pleaser. Here we have a vanilla trifle, cupcakes, a bundt cake, marshmallow sticks, pumpkin dip and Halloween candy. Yum!